Here at Eagle Hill, we're immensely proud of our students—past, present, and future. Most did not have their needs met in their previous school and felt defeated by a system that couldn't lift them up.
The EHS experience delivers on the promise of giving every child a chance to unlock the mystery of how their mind works. This is their opportunity to feel adequate and confident that they CAN learn and with unlimited patience, their teachers are their partners. Success can be described in many ways here at Eagle Hill, but it is always measured against the backdrop of hope.
Our alums rarely mention the skills and content of their learning (though we all agree it is essential), but they recall, with uncanny accuracy, the teacher who made them feel confident or challenged or inspired. With that in mind, our Alumni Updates will be largely dedicated to testimonies from our graduates and their reflections on the teachers that mattered.
---
Peter Fox
Class of 2005
Peter graduated from Northwestern University's Kellogg School of Management with an MBA in 2021. He is also a newlywed. Peter and his wife, Tayler, have moved back to New York City, where he is working in private equity for Blackstone. He has fond memories of Mrs. Burke's math class and playing soccer, ice hockey, and lacrosse with Mr. Stern and Mr. Moore.
---
Melissa Lundquist
Class of 2005
Melissa attended Eagle Hill in Hardwick, Massachusetts, and Dean College. She has her first full-time position at Educational Playcare, where she works as an assistant teacher. She loves her job and especially enjoys spending time with the children and staff.
---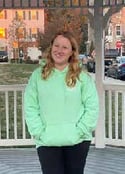 Alexa Poritz
Class of 2009
For Alexa Poritz, Class of 2009, Eagle Hill helped her gain confidence in herself that was missing. "I wouldn't be where I am, and doing as well as I am if it weren't for Eagle Hill," she said.
Teachers, including Mrs. Leonard and Mr. Moore, helped Poritz understand her learning differences and in turn helped her figure out how she learns best. Mrs. Salisbury, "the best advisor out there," provided additional support. Music class with Mr. Mulvaney and Art class with Mrs. Graves were among her favorites. After graduating from Eagle Hill, Poritz attended Irvington High School. "My journey has been both tough and amazing," she shared. "I lost my Dad when I was 19, but I'm thriving."
Poritz now lives in Delaware, where she bought a home with her fiancé in 2021. Until recently, she was working with toddlers at a daycare center. Her love of animals has inspired her new career path. She's the Operations Manager at Jungle Jim's Total Pet Care, which offers services such as doggie daycare, pet boarding, and grooming. It's a position she was promoted to soon after starting at the business. Concurrently, she is pursuing a Bachelor's Degree in Animal Health and Behavior in a distance program at Unity College. Most importantly, she is planning her wedding to the love of her life. The ceremony is scheduled for 2023 in Greenwich.
"I miss EHS," Poritz noted. "Eagle Hill is the reason why I am where I am today."