Jean M. Twenge, author and psychologist, will be hosting the first segment of Eagle Hill's virtual speaker series on November 5, 2020 at 7 p.m.. She will be speaking about her latest book iGen: Teaching and Parenting the Smartphone Generation, which is about the interaction with and dependency on smartphones among teenagers. She speaks to why it's important that parents and teachers try to understand this generation's teenagers when teaching and raising them.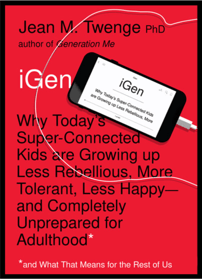 In efforts to analyze and see what motivates teen behavior, Dr. Twenge conducted a survey of 11 million teens asking them how they spend their free time, and then compared the answers to generations over time. She noticed that three broad trends among current teens included delayed adulthood, mental health decline, and displaced behavior. She goes into detail about how technology has played a role in negatively impacting teens during the upcoming virtual event. Parents, teachers, and administrators are encouraged to sign up and learn more.
Dr. Twenge, Professor of Psychology at San Diego State University, is the author of more than 140 scientific publications and six books:
Also a speaker and consultant, Dr. Twenge provides seminars on teaching and working with today's youth. Her audiences have included college faculty and staff, high school teachers, military personnel, camp directors, and corporate executives. She has had her research covered in Time, Newsweek, The New York Times, USA Today, U.S. News and World Report, and The Washington Post, and she has been featured on Today, Good Morning America, CBS This Morning, Fox and Friends, NBC Nightly News, Dateline NBC, and National Public Radio. She holds a BA and MA from the University of Chicago and a Ph.D. from the University of Michigan. Dr. Twenge currently lives in San Diego, California with her husband and three daughters.
To sign up for Dr. Twenge's virtual presentation, click here. The link for the presentation will be shared prior to the event. Please contact Cindy Ruiz with any questions.