Social-emotional learning trainer Caroline Maguire will be hosting the third segment of Eagle Hill's virtual Speaker Series on April 7, 2021 at 7 p.m. Maguire is a specialist of social emotional learning (SEL) and author of the groundbreaking guide, Why Will No One Play with Me? Not only was the book awarded a place on BookAuthority's list of best ADHD books of all time, but it was also the winner of Parenting & Family's 2020 Best Book Award and the Mom's Choice Award. Maguire's book offers parents, teachers, and clinicians coping skills and great techniques to help children deal with a range of challenges, from shyness to aggression to ADHD.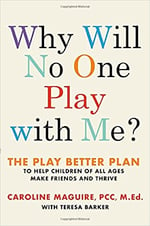 Leveraging a decade-in-the-making protocol detailed in Maguire's book, aptly subtitled The Play Better Plan, her methods set you up for success with clear, comprehensive ways to guide kids through their chronic social dilemmas. Her proven method helps children develop the confidence to make friends and feel comfortable navigating new social situations through tools like:
Social Sleuthing - learning to pay attention to social cues
Post-Play Date Huddles - helping kids figure out what to look for in a friendship
Reflective Listening - improving your child's relationship with their peers
Easy to digest and intended to offer support in some of the avenues parents may feel most unprepared for, Why Will No One Play with Me? validates those experiences and provides strategies that everyone can leverage to navigate interpersonal relationships at every age. And to further offer her support as a certified parent-to-parent coach, Maguire also works with those who hope to follow in her footsteps. She has a number of programs that are designed to help others in her field, which include:
Teaching classes on parenting children with ADHD
Mentoring coaches working on passing their ICF certifications
Guiding recently certified coaches as they build their practices
Leading social skills groups
Consulting with schools
To sign up for Maguire's virtual presentation, click here.
The link for the presentation will be shared prior to the event. Please contact Lisa Ferraro (L.Ferraro@eaglehill.0rg) with any questions.
About Caroline Maguire
Caroline Maguire, ACCG, PCC, M.Ed. has been a rock for hundreds of families who have children with ADHD. Maguire's unique way of drawing out the best in her clients has been recognized internationally. She is invited to speak at conferences and schools around the world on topics related to coaching children and young adults with autism, ADD, ADHD, LD, executive function, and social skills deficits. Her dedication, passion, and efforts are a direct result of her own struggles to fit in as a child with ADHD and dyslexia.