There is no question that "inclusion" has become a mainstream term that is typically associated with gender, race, or socio-economic status. Political policies are driven by inclusive principles and corporations are now creating management positions to promote inclusion in the workplace. One may wonder, however, how the inclusive movement has impacted the dynamics of a classroom, particularly for students with learning differences and/or language impairments.
Before delving into what inclusion may look like in the school setting, first, let's tackle one basic question: Why should we be thinking about inclusion for students?
The Basics of Inclusivity in the Classroom
By its definition, inclusion refers to being part of a group and having equal access to resources. For students, the "group" is the student body of their class and the "resources" are the skills and content embedded within academic curricula.
When all students, regardless of cognitive or language ability, are included in the classroom, students develop a sense of purpose, belonging, and empowerment. Such qualities, in turn, promote an environment of positivity and safety, and, thus, provide optimal conditions for learning.
Inclusion in the classroom can yield benefits for all children, but the benefits are exponentially more invaluable for students with language impairments and/or learning differences.
Given that they may be entering the classroom with limited skills, negative past experiences, and feelings of fear and uncertainty, their readiness and access to learning may be compromised even before instruction begins.
Without inclusive practices in place, these students run the risk of widening the performance gap in comparison to their peers both academically and socially.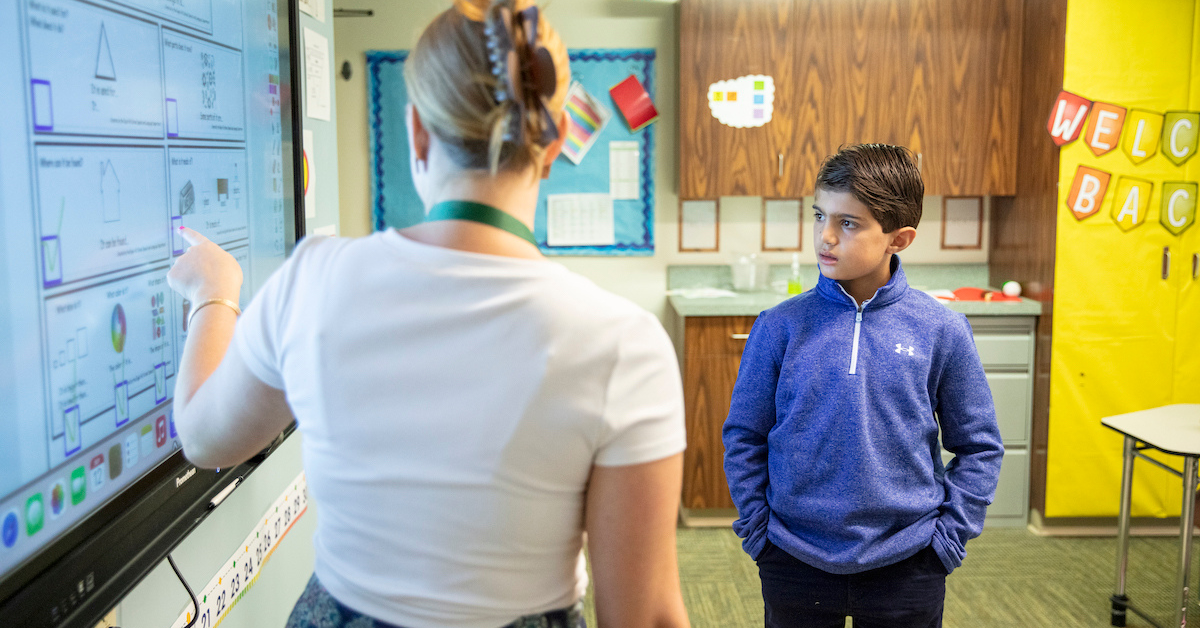 A Look at Inclusivity at Eagle Hill School
To discover what inclusive practices may look like at Eagle Hill School, let's embark on a quick tour.
Upon entering a classroom you may first notice more than one staff member present. It is not uncommon to see a speech-language pathologist, occupational therapist, or a specialist from psychological services working alongside classroom teachers and interacting with students.
Such professionals integrate elements of their specialty into lessons and provide recommendations or modifications so that all students can access the content of instruction regardless of need.
As you continue to visually scan the room, you may see that some students are using hand fidgets, alternative seating options (cushions or chairs that provide more mobility), or other learning tools like word banks, calculators, or speech-to-text options on their laptops.
You also notice that the teacher is wearing a microphone receiver that connects to an FM (frequency-modulated) system—a device that enhances a select auditory signal (in this case, the teacher's voice) and differentiates it from background noise. Having access to these learning tools provides all students the opportunity to partake in classroom-based activities which, in turn, help to further develop their skillset.
As you tune in to the content of what is being instructed, you may notice that the teacher uses verbal language, visuals, hand-held objects, or physical movements to reinforce a particular topic.
A multi-sensory approach to learning allows students to access material in the modality that is best for their individual needs. As you continue to listen, you notice that the teacher asks one student to explain a particular concept while asking a different student a multiple-choice question. You may wonder why that is the case.
The answer? Individualization.
An Individualized Approach to Education
Teachers and support specialists at Eagle Hill School are mindful of the individual learning and language profiles of their students. When instruction and tasks are adjusted to students' relative needs, all students have the opportunity to display their knowledge and access the same content alongside their peers.
If you were to extend your visit throughout the school day, you would notice even more ways in which inclusion is applied both in and out of the classroom at Eagle Hill School.
When given an inclusive environment, students with learning differences develop confidence, gain skills, and feel included. The positive effects of these benefits are endless and last well beyond the academic years.
It is no surprise, then, that time and time again, our Eagles not only grow and progress, but they also soar.