One of the nation's leading child and adolescent psychiatrists, Dr. Harold Koplewicz will be hosting the first presentation of Eagle Hill's 21-22 virtual Speaker Series on November 2, 2021, at 7 p.m. Register today!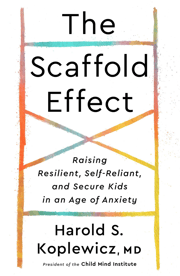 This segment will dig deeper into the concepts and strategies illustrated in his most recent publication, The Scaffold Effect: Raising Resilient, Self-Reliant, and Secure Kids in an Age of Anxiety. Perfect timing, considering the number of stressful changes we've all had to endure in the past year.
In this book, Dr. Koplewicz combines personal and professional anecdotes with research-driven philosophies and strategies to shed light on how families can work together to combat the effects of anxiety. Through a clinically-tested concept known as The Scaffolding Effect, Dr. Koplewicz outlines what parents can do to lay the foundation so that their kids can feel encouraged and safe enough to flourish. His building blocks to success are to:
Lay A Solid Foundation
The first step, laying a solid foundation, means establishing a healthy parent-child relationship. From making sure to be emotionally available to clear messaging and consistent rules, these are just a few aspects of parenting that give children room to grow.
Empower Growth
Validation is an important part of the process. As your child experiences new challenges and opportunities, they'll need support and encouragement so that they can feel empowered in their sense of self. When an effort to control growth is made instead of nourishing it, then sometimes, that growth can instead be stunted.
Stay On Their Level
Staying on your child's level means more than just looking them in the eye and creating a space to communicate. When it's clear that you're in their corner, it becomes easier for parents and children to work together. Expectations become aligned leading families toward resolutions that leave everyone feeling better.
Youth And Mental Health
Earlier this year, Dr. Koplewicz joined the cast and producers of the cinematic adaptation of Dear Evan Hansen in a panel to discuss the show, as well as have an honest discussion around mental health. Dr. Koplewicz shared his insights on the steps parents could take to build up their relationships with their kids, particularly when that child is experiencing anxiety or depression.
ABOUT DR. KOPLEWICZ
Harold S. Koplewicz, MD, is the founding president and medical director of the Child Mind Institute, the only independent national nonprofit dedicated to child and adolescent mental health. Dr. Koplewicz is the author of several books, including The Scaffold Effect: Raising Resilient, Self-Reliant and Secure Kids in an Age of Anxiety. During the coronavirus pandemic, Dr. Koplewicz led the Child Mind Institute in a digital transformation to bring families everywhere mental health support including telehealth treatment, hotlines for front line professionals, resources for underserved communities, and #WeThriveInside, a celebrity social media campaign that reached more than 250 million people.
To join the upcoming conversation with Dr. Koplewicz, register for the event today. The link for the presentation will be shared prior to the event. Please contact Lisa Ferraro (L.Ferraro@eaglehill.0rg) with any questions.